Marzuki Grinage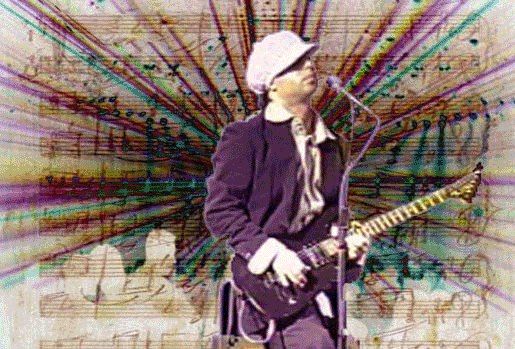 Marzuki Grinage is a Vocalist/Guitarist/Producer from Oakland, CA. whose fusion of R&B/Soul/Rock music echoes Stevie Wonder, Jimi Hendrix, David Bowie, The Stooges and Prince. Some have described his new project MARZ ROCKET as PUNK SOUL.
Growing up in the Eclectic Bay Area Music Scene planted the seeds of Inspiration in fertile ground. As a teen Marzuki might be Playing Blues one night at the Eli's Mile High Club and the next be hanging out Jamming, Writing, Performing and Recording with East Bay Punk, Funk, Metal and Progressive/Experimental Musicians. Soaking in all these Influences was the Spectrum of Inspiration that would Diversify Marzuki's Style as a Musician and Songwriter. 
Hanging out and Playing @ Hell House, the Berkeley Rehearsal and living space for Original Exodus Vocalist Paul Baloff's Band Piranha, Jamming with Legendary Guitarist Bob Coons who shared a Rehearsal Room with Exodus, Playing/Gigging with an all Black Punk Band (Recording Produced by Poison Idea Drummer Steve 'Thee Slayer Hippy' Hanford) and many other Musicians including Members of Idiot Flesh, Laughing Dead, Special Forces, Fang, Third Eye Blind, Testament, Heathen, Lazz Rocket, Gigging at 924 Gilman Street, Ruthie's Inn and The Berkeley Square are all Experiences that would shape Marzuki's Adventurous Musical Universe.
Paul Baloff and David White both asked Marzuki to Join Legendary Bay Area Thrash Bands Piranha and Heathen around the same time. As tough of a decision as it was, Marzuki declined to focus an Original Project with Guitarist/Amp Guru Todd Langner, Vocalist Gene Jun (Acid Rain/Idiot Flesh,) Drummer Wes Anderson (Idiot Flesh, Blind Illusion, Les Claypool,) and Bassist Lars Von Lowen (Mudslinger/Guy Mann-Dude.)
Marzuki has also performed and or recorded with members of Santana, Sly And The Family Stone, Graham Central Station, The James Brown Band, The Gap Band, The Wailers, John Lee Hooker, and Con Funkshun among others. Marzuki is also a multi- instrumentalist /songwriter/recording engineer/producer who has contributed to many projects as well as helped to develop Artists to their fullest potential.
When Santana vocalist Vorriece Cooper recorded songs to offer Santana for his Supernatural CD project, he asked Marzuki to play guitar on the recordings. More recently, Marzuki's guitar and bass playing with the Punk Funk Mob helped the band to capture the attention of Angelo Moore (singer for Fishbone,) which led to Punk Funk Mob signing with Mooremapp Records in 2009 (a label owned by Angelo and Keno Mapp.) Marzuki Plays Guitar, Bass and Keyboards on The Punk Funk Mob Album The Revolution.
Other personal projects have gained the interest and support of legendary artists such as Al Anderson (guitarist for Bob Marley and The Wailers/Lauryn Hill) and D'wayne Wiggins of Tony! Toni! Tone!
From birth, Marzuki was surrounded with the music of his father Raphael Grinage, a multi-instrumentalist, who, worked with greats such as Odetta, Earl "Fatha" Hines, Charles Brown, Ahmed Jamal, Carmen McCrae, Charles Mingus and Taj Mahal. Marzuki started playing guitar at age 10, teaching himself to play by listening to Jimi Hendrix, BB. King, Van Halen and Prince records, among others.
Marzuki also gained many valuable lessons and experience playing and recording with his father."My father had the biggest influence on me as a musician." "He taught me how to play from my inner being and respect music as a powerful spiritual expression," says Marzuki.
At Age 13 Marzuki started taking guitar lessons from Nils Frykdahl (Acid Rain, Idiot Flesh, Sleepytime Gorilla Museum, Faun Fables, Free Salamander Exhibit) and studied with Nils for 4 years. Nils continued to be a major influence and inspiration for his progressive groundbreaking music and performances. 
An essential ingredient to Marzuki's development is his desire to constantly challenge himself. In addition to playing guitar for many years, Marzuki has continued to develop his abilities to sing, play bass, drums, keyboards, write, arrange, produce, and engineer, feeding his never ending hunger for growth and self-expression.
Marzuki's desire for growth has resulted in the ability to complete songs and productions from start to finish by himself. In 2002 (after completing the Music Recording Industry Certificate Program @ San Francisco State University,) Marzuki Grinage established Elevatesong Productions, offering competitive production services to artists and record labels in need of professional and marketable recordings.

Marzuki studied the Seth Riggs Speech Level Singing Technique since 1998 (and was a Certified SLS Instructor for 7 Years) with Seth Riggs, Greg Enriquez, and has also studied with (former Speech Level Singing instructors) Dave Stroud, Jeffrey Skouson, Wendy Parr and Dean Kaelin,) bass with Kai Eckhardt (John Mclaughlin,) drums with Alan Hall (former Boston Berklee College of Music teacher,) Jazz composition, theory, harmony, arranging and ear training with saxophonist Jim Grantham (former teacher @ Berklee College of Music, San Francisco State, director of Jazz Studies at Cal State at Hayward, and author of The Jazz Master Cookbook,) production, engineering, songwriting, publishing, artist management, legal aspects of the music business with Josh Hecht, Scott Matthews, Steve Seskin, Michael A. Aczon and Marc Greenberg @ SFSU's MRI (Music Recording Industry) Program.

Marzuki cites, Stevie Wonder, Sly Stone and Prince as key influences. "I've been really inspired by the body of work that, Stevie, Sly and Prince created," says Marzuki. "All three are incredible recording artists, songwriters, producers and multi- instrumentalists." "Each of them have also used their music and status to influence positive changes in the world. My ultimate goal is to use my music for positive social change too." ###

*For Shows, News, Free Music and New Releases Join the Email List!